A New China Rare Earth Embargo Would Damage Several U.S. Companies' Technology Competitiveness
The story below is written by Dr. Robert N. Castellano, president of The Information Network (http://www.theinformationnet.com/) and featured in SeekingAlpha. The link to the original article is contained at the end of this post.
Summary
The U.S. and China are embroiled in a trade dispute, and the Chinese could readily impose a tariff on rare earth elements as it did in 2010.
China supplies between 85% and 95% of global demand for the 17 rare earth powders and metals used in high-tech applications such as smartphones, catalysts, LED screens, polishing.
U.S. companies whose products incorporate rare earth materials, would be at a competitive disadvantage if the Chinese were to impose a rare earth tariff.
Through a series of clever, systematic manipulations China now owns the rare earth element (REE) market. During the past twenty years there has been an explosion in demand for many items that require rare earth metals. China being China capitalized on its rich REE deposits and cheap labor to drive down prices to a point that nearly every mine outside China was forced to shut down because they couldn't compete on price. The rest of the world (ROW) being the ROW (including the U.S.) allowed China to take away business because of cheap labor.
Then things changed once China controlled the industry when in 2009 and 2010 the country implemented stringent export quotas, choking off much of the supply of rare earth elements and their byproducts to technology companies and high-tech manufacturers around the world. The quotas, which were first implemented in 2009 and then cut by a further 35% in 2010, sparked a panic, with rare earth prices spiking. The price of rare earth byproduct dysprosium oxide, for example, shot up from $166 per kilo in 2010 to nearly $1,000 per kilogram in 2011.
According to The Information Network's report entitled "Rare Earth Elements In High-Tech Industries: Market Analysis And Forecasts Amid China's Trade Embargo," prices began dropping in 2012 and stabilized in 2013, as shown in Charts 1 and 2.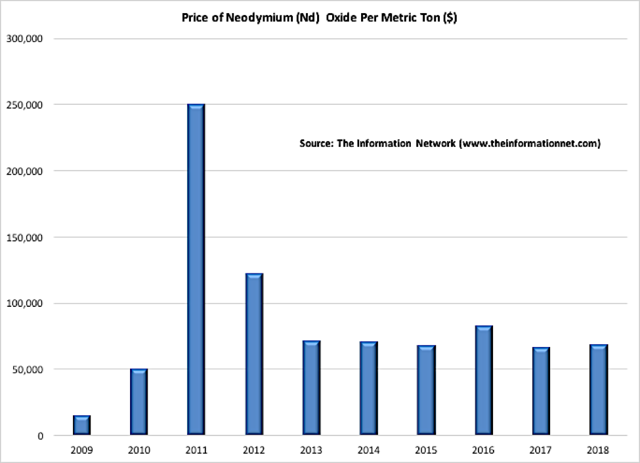 Chart 1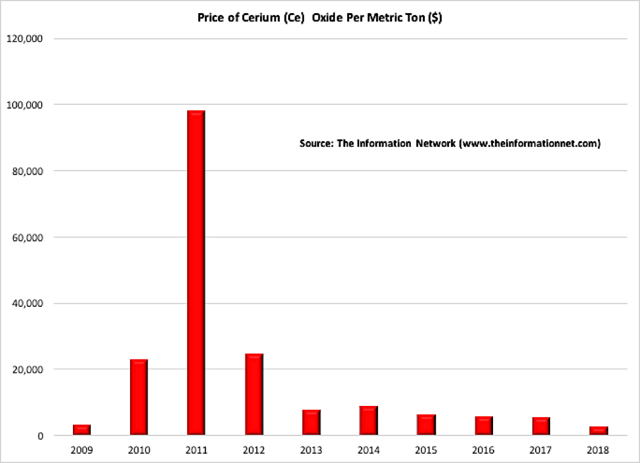 Chart 2
Eight years ago I discussed China's rare earth dominance in a November 5, 2010 Seeking Alpha article entitled "How China's Rare Earth Embargo Impacts High Tech Companies." Eight years have elapsed since the article, and in light of expanded applications for REE, an impending China-U.S. trade war, and a very different REE industry outside China, I want to expand and update my analysis of the market.
China was able to dramatically impact the REE prices because the country excavated more than 90 percent of rare earth elements produced in the world in 2010. Then China acquired nearly all of the ability for processing the rare earth ore into end products.
These processing capabilities include:
Separating the rare earth ore into individual rare earth oxides;
Refining the rare earth oxides into metals with different purity levels;
Forming the metals into rare earth alloys; and
Manufacturing the alloys into components, such as permanent magnets, used in defense and commercial applications.
U.S. Companies Impacted by Another REE Embargo
China supplies between 85% and 95% of global demand for the 17 rare earth powders and metals that are used in high-tech applications such as smartphones, catalysts, LED screens, polishing compounds and ceramics. The single biggest use is in permanent magnets for wind turbines and hybrid electric cars.
Apple (AAPL)
A typical iPhone has nine of these 17 rare earth elements. Many of these, such as lanthanum (which also extends a phone's battery life) are found in the phone's circuitry. The vivid hues of blue, green, and red that shine through LCD screens are only made possible with other rare earth metals. Headphones, too, require praseodymium and neodymium.
CREE (CREE)
Every LCD screen, whether for a smartphone, a TV, or a computer screen, requires a light emitting diode (LED) backlight (OLED screens don't require a backlight). LEDs are the light source of a backlight, and REE phosphors generate the light in LEDs.
Cree, Inc. is an American worldwide manufacturer and marketer of lighting-class LEDs, lighting products, and products for power and radio frequency applications.
According to InvestorIntel:
"Powertrain motors featuring permanent magnets provide numerous benefits: lower weight, higher torque density and improved efficiency when compared to induction motors, making them perfect for hybrid electric (HEV) and full electric vehicles (EV). This means they provide faster acceleration, reduced vehicle weight and additional space for other components. It is therefore conceivable that NdPr motors will become the dominant EV technology in years to come.

Some EV models do already use permanent magnets in either the traction motor or generator, including the Chevrolet Bolt, but it is expected that a much higher proportion of future models will incorporate permanent magnet motors as the market becomes more competitive."
Tesla's Model X and Model 3 standard use induction motors, which don't require rare earth magnets. Tesla has shifted to a magnetic motor using neodymium in its Model 3 Long Range. REE magnets are also used in the Nissan LEAF, Chevrolet Bolt, and BMW i3 (OTCPK:BMWYY).
The supply-demand dynamics of neodymium used in these engines is even worse than with the DRAM market. In 2017, global demand for neodymium was 31,700 tons outstripping supply by 3,300 tons.
General Electric (GE)
With over 35,000 wind turbines installed globally, GE is one of the world's leading turbine suppliers. A wind turbine contains 350 kg of REE, representing 1.2% of the cost of the turbine.
The use of rare earth permanent magnets in wind turbines eliminates the need for gear boxes, which can reduce reliability. The improved reliability of rare earth magnets is particularly beneficial for off-shore wind power generators. Neodymium is the primary element present in such magnets.
Western Digital (WDC), Seagate (STX)
Rare earth materials are used in two components of hard disk drives (HDDs), magnets and the spinning glass disks, and are also used in the chemical mechanical polishing of the glass disks.
Every hard disk drive actually contains two powerful neodymium-iron-boron magnets that control the movements of the read/write heads. Sixteen percent of the world's rare earth magnets are currently used in HDDs.
Rare earths are also used to produce high-strength glass substrates, which feature optimal properties for use in hard disks. Praseodymium (Pr) and erbium (Er) are introduced into the composition of glass at a nano-scale level. The rare earth ions attract oxygen ions and the glass is transformed into high-strength compressed glass, which exceeds conventional disks in strength, chemical stability, and adhesion to a magnetic recording layer.
Finally, cerium (Ce) slurry is used as a polishing slurry for these glass disks. Glass disks have rapidly replace aluminum disks for HDDs, according to The Information Network's report "The Hard Disk Drive (HDD) And Solid State Drive (SSD) Industries: Market Analysis And Processing Trends."
Substitution of Rare Earth Materials in End Applications
Efforts to develop substitute technologies that do not rely on rare earth metals are ongoing, and governments around the world are mobilizing resources towards the problem. The U.S. Department of Energy has spent $27 million on 14 projects to examine new magnets that do not need rare earth metals.
Private companies are heavily involved in eliminating or reducing the amount of REEs in end applications for two reasons: high cost and low supply of some, but not all of the REEs. For example, Toyota Motor Corporation has developedthe world's first neodymium-reduced, heat-resistant magnet. The new magnet uses significantly less neodymium and can be used in high-temperature conditions.
It also uses no terbium (Tb) or dysprosium (Dy)-rare earths that are also categorized as critical materials necessary for highly heat-resistant neodymium (Nd) magnets. A portion of the neodymium has been replaced with lanthanum (La) and cerium, which are low-cost rare earths, reducing the amount of neodymium used in the magnet.
In another example, the U.S. Department of Energy's Critical Materials Institute (CMI) has used laser 3D metal printing to optimize a permanent magnet material that may make an economical alternative to the more expensive rare-earth neodymium iron boron (NdFeB) magnets in some applications.
The magnet alloy is composed of cerium – a less expensive and more plentiful rare earth – cobalt, iron, and copper. The researchers produced a range of compositions in samples that were printed using a 3D laser metal printer.
Recycling of REE
New technologies could lead to new opportunities for recyclers, particularly those handling electronic products. The technology developed at the Department of Energy's (DOE's) Oak Ridge National Laboratory uses a combination of hollow fiber membranes, organic solvents and neutral extractants to recover rare-earth elements such as neodymium, dysprosium and praseodymium.
In laboratory testing, the membrane extraction system demonstrated the potential to recover more than 90% of these three elements in a highly pure form from scrap neodymium-based magnets. The resulting product is a 99.6% pure combination of rare-earth materials. The DOE licensed the technology to privately held Momentum Technologies (Dallas, TX).
Investor Takeaway
The embargo of 2010 came about as a result of a collision of a Chinese fishing ship and two Japanese Coast Guard vessels in the East China Sea. Japan detained the captain of a Chinese fishing trawler. China responded by announcing that it would halt all shipments of rare earth elements to Japan.
Following the short-lived altercation, dozens of companies started new mining projects, ramped up their use of its existing plant capacity, and accelerated plans to recycle rare earths, effectively creating a new source of supply for the global market.
However, a 2010 report published by the Government Accountability Office warned that "rebuilding a U.S. rare earth supply chain may take up to 15 years". Until then, and despite non-Chinese supplies, a repeat in pricing as illustrated in Charts 1 and 2 would impact U.S. several high-tech companies.
Apple could be severally impacted. As noted above, nine of the 17 rare earths are in an iPhone. On top of that, LEDs used as backlights, use rare earth phosphors. The larger the display, the greater the number of LEDs. Thus, they are used in iPhones, iMacs, iPads, and iWatches. In other words, all Apple products. The higher price AAPL pays for the components in its supply chain will influence the price it charges to customers or affect its operating margins.
Apple has huge profit margins, double that of competitor Samsung Electronics (OTC:SSNLF). But all Apple's products are manufactured in China, so it would be a simple task for the Chinese government to police its supply chain. At the same time, the move will be a positive for Apple's Chinese competitors. Apple sells more iPhones in China than it does in the U.S.
CREE faces strong competition from Chinese LED manufacturers. According to TrendForce:
"As a result, companies such as MLS and Nationstar continue to expand their production capacity, resulting in their higher revenue ranking. In addition, in recent years, the financial subsidies offered by local governments in China have motivated a large number of Chinese LED manufacturers to increase production capacity. With the cost advantages, these manufacturers have also received many orders from overseas companies. As the result, Chinese LED manufacturers keep moving forward in the entire ranking of revenue. In 2017, the market share of Chinese manufacturers in the global LED packaging market also reached 35%, a five percent increase from 2016."
GE's principle wind turbine competitors are Vestas (Denmark) and several Germany companies. GE also faces strong, growing competition from Chinese companies Goldwind and United Power. Both companies have felt the effects of the slowdown in wind installations in China. Following a new high in 2015, China saw drops in installed capacity of wind power projects in both 2016 and 2017.
As stated in China's 13th Five-Year Energy Plan, the government aims to reduce wasted wind energy and phase out subsidies for onshore wind power development. These objectives have resulted in a slowdown in production of new wind installations in China, which will continue over the next five years.
This will increase pressure for the Chinese wind turbine makers to expand their reliance on overseas markets as a substitute for the stagnant domestic market. Thus, an embargo of magnets to non-Chinese competitors will help Chines companies in their quest for installations outside China.
Western Digital and Seagate are the two main suppliers of HDDs. According to The Information Network's HDD/SSD report, WDC held a 40% of the overall market in 2017 followed by STX at 37% and Toshiba at 23%.
HDDs are losing market share to SSDs, even though a 1TB internal 2.5-inch HDD costs between $40 and $50, while an SSD of the same capacity and form factor starts at $250. A REE embargo will result in higher prices of HDDs, which would reduce the spread in prices between HDDs and SSDs, thereby speeding the changeover from HDDs to SSDs for multiple applications.
WDC makes both HDDs and SSDs whereas Seagate only makes HDDs. Thus, the real loser of escalating HDD prices is Seagate.
Tesla has been struggling to increase production of its Model 3 after a series of production snafus. The company now is producing 5,000 units per week as promised by CEO Musk. The Model 3 Long Range adds $9,000 to the price of the standard version, according to the company.
The four EVs mentioned above that use rare earth magnets in their motor – Model 3 Long Range, Nissan LEAF, Chevrolet Bolt, and BMW i3 – are currently in production. According to EV Sales, the Model 3 (both standard and long range) was ranked number 1, followed by the Volt at no. 6, the Leaf at no. 7, and the i3 at no. 10 through May 2018. All four companies compete on performance and price. The weight of rare earth in an EV is approximately 1 kg (2.2 lbs.), meaning that the price of rare earths is approximately $150 per EV. If prices quadruple like they did in 2011, that increase would raise the EV price approximately $450, approximately 1% of the MSRP of the vehicle.
The biggest winner is Lynas Corporation (OTCPK:LYSCF). The company's 2017 annual report makes the statement that "Lynas now presents itself to its global customers as the only miner and processor of rare earths outside China." As reported by Lynas and shown in Chart 3, its resource deposit in Mt Weld, Western Australia, is acknowledged as one of the highest grade rare earths mine in the world.

Chart 3
Source: Lynas Corporation
The current trade tariffs are already impacting U.S. and Chinese companies. How long they are imposed is anyone's guess. If a rare earth embargo were to be enacted, it would damage the competitiveness of U.S. companies.
Disclosure: I/we have no positions in any stocks mentioned, and no plans to initiate any positions within the next 72 hours.
I wrote this article myself, and it expresses my own opinions. I am not receiving compensation for it (other than from Seeking Alpha). I have no business relationship with any company whose stock is mentioned in this article.
Editor's Note: This article discusses one or more securities that do not trade on a major U.S. exchange. Please be aware of the risks associated with these stocks.
https://seekingalpha.com/article/4184580-new-china-rare-earth-embargo-damage-several-u-s-companies-technology-competitiveness
Dr. Robert N. Castellano, president of The Information Network (http://www.theinformationnet.com/), received a Ph.D. degree in chemistry from Oxford University (England). He has had ten years experience in the field of wafer fabrication at AT&T Bell Laboratories and Stanford University. He has authored numerous reports for other publishing companies before founding The Information Network. He has been editor of the peer-reviewed Journal of Active and Passive Electronic Devices since 2000.  He is author of the book "Technology Trends in VLSI Manufacturing" published by Gordon and Breach. He is also a Senior Contributor to TheStreet.com. His book "Solar Panel Processing" was published in 2009 by Old City Publishing. His latest book, "Alternative Energy Technology" was published in 2012. Also in the solar area, he is CEO of SolarPA, which uses a proprietary nanomaterial to coat solar cells, increasing the efficiency by up to 10%.  He recently published a fictional novel Blessed, available on Amazon and other sites.
Hits: 101